Overview
About the KH-COMP1 Signature Compressor
The bespoke compressor like no other, where creativity meets innovation. -- The Koen Heldens KH-COMP1 Signature Compressor is a versatile beast! The unique Hilbert Transformer and the Zero Latency Design will allow for the fastest attack on the market. Great for: literally everything!
About the Edelweiss`72 Channel Strip
The perfectionist's saviour. -- The Edelweiss`72 channel strip plug-in is a highly dynamic mixing toolchain tailored for picky professionals. Meet a thoughtfully designed plug-in that will improve your mix and give it that final touch it needs to approach dynamic versatility while maintaining sound perfection.
About the Omnitec-67A Vintage Preamp
Motown's secret sauce. -- This vintage tube preamp turns even the most sterile of signals into a rich-sounding production by introducing lush vintage tube saturation and that 1567A sparkle. From gritty vocals to saturated drums and harmonically complex mixes, this vintage classic with a twist can do it all.
About the RO-140 Vintage Plate Reverb
The best of a vintage classic for ultimate reverb authenticity. -- Modeled on THE classic with 6 different materials, the RO-140 offers a virtually infinite amount of customisation options for limitless creativity, while delivering in our signature vintage style.
Products included
Edelweiss`72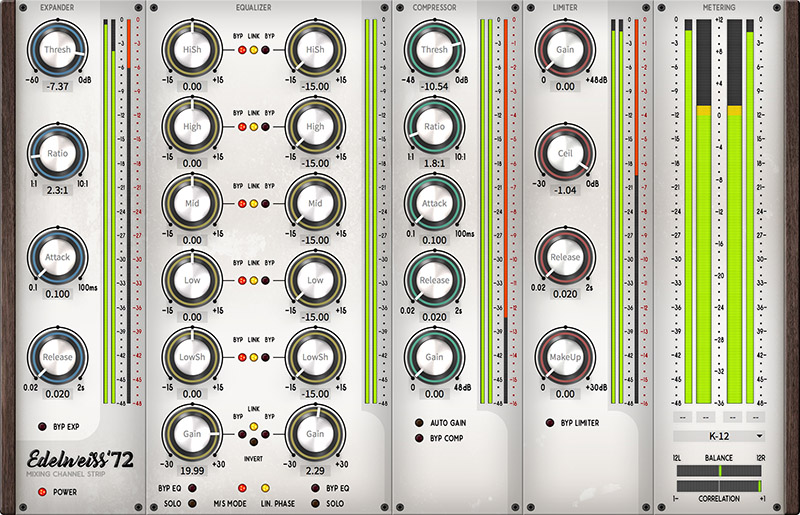 KH-COMP1

RO-140

OmniTec-67A

Features
Authentic circuit emulation
Our real time SPICE type component based circuit simulation approach allows to authentically capture the sound and feel of the analog counterpart in all nuances. All crucial parts of the original circuits including audio transformers, tube stages or passive filter networks have been faithfully modeled.
SSE2 optimized code
DSP operations are pipelined using the SSE2 instruction set. This ensures the highest possible performance operation despite very complex computations.
Auto-adjusted oversampling for maximum audio transparency
Aliasing artifacts are efficiently attenuated using a low latency linear phase Dolph-Chebyshev poly-phase design. The oversampling is auto-adjusted to your session's sample rate to save valuable CPU power while offering the most transparent sound possible.
HighDPI / Retina support
All our plug-Ins support high pixel density on Mac OSX and Windows to bring you the most enjoyable user experience on high DPI displays. Please refer to your manual to find whether your DAW is HighDPI capable if you're working on Windows.