KH-EQ1 Overview
Equalization & Saturation
The KH-EQ1 is a semi-parametric 5-band EQ like no other. It features rich-sounding frequency band controls that allow you to add color to each band while encouraging creative sound shaping with its musical functionality.

The KH-EQ1 - the second part of the Koen Heldens signature series - is a professional studio EQ with a twist, which features harmonic per-band saturation and our innovative, stepless Mid<->Stereo<->Side router.
Each license includes custom presets created by Koen Heldens himself, giving you the professional studio experience you've been waiting for.

The KH-EQ1 Koen Heldens Signature Equalizer is the perfect addition to any producer's arsenal, and it's the ideal tool for adding richness and creativity to your productions!
Brief History of the EQ
Creative Signal Shaping

Photo by Will Fisher
The equalizer, or EQ, is one of the most used yet most misunderstood audio processes out there. It is a vital tool that any producer should have in their toolkit - and yes, it can be an incredibly creative tool!

Simply put, EQing is used to adjust the response of one or more frequencies in an audio signal, which can help shape or make any element of your mix less or more prominent.

The EQ was initially used for telecommunication purposes and dates back to acoustic telegraphy. It was later used in radio and broadcast and continued to evolve until it became a staple in every studio.
Daniel N. Flickinger designed the first parametric equalizer in 1971. His invention achieved filtering circuits that were previously impossible, and his patent introduced circuit topology that continues to be relevant today. These legendary hardware EQs turned into digital EQ plug-ins with countless customization options and styles over the years.

This essential tool allows you to surgically remove or boost any desired frequency, without compromising the timbre of each element, or by changing it completely. The KH-EQ1 is a great example of a highly versatile equalizer that encourages the musical shaping of your sound due to its highly musical functionality.
About Koen Heldens
Signature Series
The KH-EQ1 is the second part of the Koen Heldens Signature Series, following in the footsteps of the KH-COMP1 Signature Compressor, that has been vowed both by our valued customers and press. Koen Heldens is a multi-platinum selling, American Music Award, and Billboard Music Award-winning mixing engineer and producer, best known for working on the most streamed song in 24 hours with XXXTentacion, among other prominent names in the music industry, such as Trippie Redd, Missy Elliott, and Timbaland.
Koen is the expert when it comes to producing some of the best and most-streamed albums in the hip-hop genre - and while his experience and understanding of music production allow him to create and shape the emotional foundation of a song, he also has a deep understanding of the technical aspects and limitations of each plug-in he holds in his arsenal.

The collaboration between Koen and Black Rooster Audio quickly evolved into a fruitful creative partnership, resulting in a one-of-a-kind plug-in series that is up to the standards of one of the greatest producers of the moment. We are proud to have Koen use our plug-ins extensively in every mix and to have co-created this Signature Series with him.
Grab your license
KH-EQ1 Signature Equalizer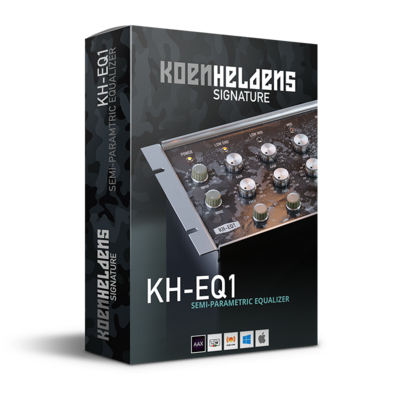 Take your productions to the next level with the help of one of the most knowledgeable producers and mix engineers of the moment with the KH-EQ1!

Not only does this original semi-parametric EQ allow for detailed sound shaping, but it also fuels your creative abilities due to its highly musical functionality.

Get it now for - for a limited time only!
Buy now for -
Back to top