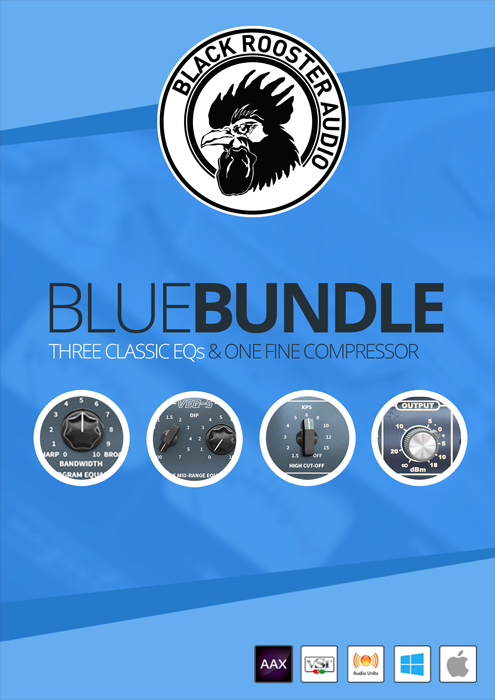 Blue Bundle
Vintage EQs & Leveling Amplifier
Overview
About the Blueface SC-5
Accurately modeled after the original 70s Blueface version of a classic and sought-after VCA compressor the SC-5 audio plugin opens up a whole world of versatility: Super gentle compression to smashed-up live drums - the Blueface SC-5 handles it all.
About the VHL-3C
Built around a cascade of two constant-K filters the VHL-3C's analog counterpart - a sought-after processor from the early 1950s - comprises an entirely passive design with very musical and interactive pass filters.
About the VEQ-5
The VEQ-5 plugin is inspired by one of the most famous and renowned equalizers in studio history - focusing on the power range frequencies from 200Hz to 7kHz it is aimed at cleaning up and sweetening vocals. But it also does a great job on guitars and keys.
About the VEQ-1P
Black Rooster Audio is excited to present the VEQ-1P Program EQ, inspired by one of the most famous and renowned equalizers in studio history.
Products included
VHL-3C

VEQ-5

Blueface SC-5
VEQ-1P

Features
Authentic circuit emulation
Our real time SPICE type component based circuit simulation approach allows to authentically capture the sound and feel of the analog counterpart in all nuances. All crucial parts of the original circuits including audio transformers, tube stages or passive filter networks have been faithfully modeled.
SSE2 optimized code
DSP operations are pipelined using the SSE2 instruction set. This ensures the highest possible performance operation despite very complex computations.
Auto-adjusted oversampling for maximum audio transparency
Aliasing artifacts are efficiently attenuated using a low latency linear phase Dolph-Chebyshev poly-phase design. The oversampling is auto-adjusted to your session's sample rate to save valuable CPU power while offering the most transparent sound possible.
HighDPI / Retina support
All our plug-Ins support high pixel density on Mac OSX and Windows to bring you the most enjoyable user experience on high DPI displays. Please refer to your manual to find whether your DAW is HighDPI capable if you're working on Windows.
Regular price $ 247.00
84.00
Add to cart
Create 14-day trial license
You need to be registered in order to demo our products.
Plug-in Pack Download
Download Mac Installer
Download Win Installer
Supported formats
Supported platforms (32/64 bit)
Requirements
MINIMUM SYSTEM REQUIREMENTS (MAC)
SSE2 compatible processor (Intel Core CPU recommended)
1GB of RAM
Mac OSX 10.9 or newer
VST, AU or AAX compatible host (64bit)
Display resolution of 1280x1024 pixels or more
MINIMUM SYSTEM REQUIREMENTS (WINDOWS)
SSE2 compatible processor (Intel Core CPU recommended)
1GB of RAM
Windows 7 or newer
VST or AAX compatible host
Display resolution of 1280x1024 pixels or more