Rafa Sardina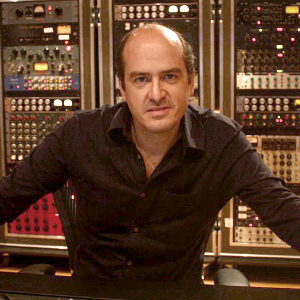 Producer/Mixer/Engineer
Thirteen-Time Grammy® & Latin Grammy® Winner
(Stevie Wonder, Camila Cabello, Lady Gaga, Celine Dion)
Biography
As a musician, engineer and producer Rafa connects easily with artists and has tremendous respect for creating a studio vibe that's performance-friendly for both new and established talent.
Rafa's love for music began at an early age playing guitar and attending recording sessions in his native Spain. After four years in Medical school, Rafa chose to pursue his life-long passion: Music. A live sound stint with folk, jazz and world artists in Northern Spain and South of France led him to the United States where he attended Full Sail in order to expand his knowledge and abilities. Soon after he landed an engineering position at the legendary Ocean Way Recording Studios in Hollywood and Record One Studios in Los Angeles. Rafa had the unique opportunity to work with world reknowned artists on a daily basis: from Natalie Cole to the Black Crows, Celine Dion, Greenday, Madonna, The Rolling Stones, Red Hot Chili Peppers, Frank Sinatra, the pre-recording of The Academy Awards and worked on numerous movies. Rafa's intuition to move to Los Angeles proved to be one of the most rewarding synergies of his life.
Though Sardina is best known for working on pop, rock and R&B projects, he has recorded and mixed just about any genre of music you can imagine: orchestral recordings, big band, R&B, dance, gospel, soul, rap, choral, film/TV soundtracks and movie scores like "Any given Sunday", "102 Dalmatians", "Michael Jordan- To the Max", "Biker Boyz", Tyler Perry's "Madea's Family Reunion", Johnny Depp's "The Rum Diary" and many more.
Rafa founded Fishbone Productions in 2001. He built his studio "Afterhours Studios" from the ground up with artist's need in mind. "Afterhours" was designed by Com-po-site architectural firm, who's behind the design of very reputable studios like The Record Plant, David Lynch Studios and many other world-class facilities.
The studio was retrofited in 2017 by DHDI's Hanson Hsu with a new innovative technology called Quantum Acoustics and made it to Mix Magazine's Class of 2017 list of most innovative studios of the year.
"It helps me to be more flexible with today's recording budgets and create a safe place for artists to work without having to worry about the clock," says Sardina, who specified the acoustics and gear installation details of his studio in Los Angeles, California. He also frequents major studios around the world. "Basically, I go where the projects take me…"
Sardina's Gear of Preference: Augspurger Speakers, Avedis Audio, Bricasti, Focusrite, Sennheiser, Plug-In Alliance, McDSP, iZotope, Waves, SPL & DUY Plug-ins, Neumann, Apogee converters, and Solid State Logic mixers.